Latest News:
Anne & I are pleased to announce the debut of the Longwood Trio, composed of the two of us joined by bassist extraordinaire, Dave Bruker. We'll be playing Wednesday (January 23) from 6-8 PM at Sweet Grass, located at 405 W Patterson Drive in Bloomington.
- Jim
Check out Josh Site's Music in Mind podcast where he interviewed Jim Krause on music and composition. Music in Mind Episode .
Crossing the Inland Sea is the 2nd CD from guitarist/composer Jim Krause and cellist Anne Hurley. Krause's compositions weave classical, traditional, and indigenous themes into melodies both haunting and beautiful that transport listeners to distant places.
Crossing the Inland Sea liner notes: The inland seas are beautiful, wild and vast. You can sail over them or if the timing is right, hike across them. Mid-March in the Grand Canyon, my boots crunched on dry, ancient sandstone as I crossed the desert floor. Once this was all covered by a shallow inland sea. Three months later a perigee full moon closely aligned with the summer solstice. Anne and I were sailing north on an overnight passage across Lake Huron in our sailboat. We arrived in its North Channel to spend four days in a peaceful anchorage with no one but a family of loons to keep us company. These moments, crossings, and places are the seeds that grew into this humble collection of songs.
I hope that in some small way you travel with us as you listen and that all of your crossings are full of adventure and beauty. - Jim
Crossing the Inland Sea is available at your favorite digital music store including:
- - - - - - - - - - - - - - - - - - - - - - - - - - - - - - - - - - - - - - - - - - - - - - - - - - - - - - - - - - - - - - - -
Our 1st CD, Madeleine Bay,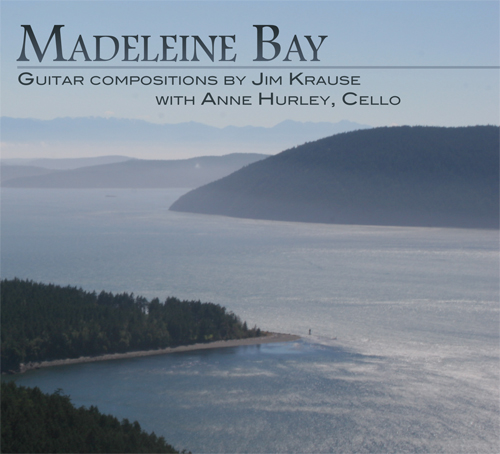 is available on-line and in select stores. You can find Madeleine Bay on:
Here's what folks are saying about our music:
"Inspired by their journeys into the natural world, Jim Krause & Anne Hurley have crafted a set of guitar/cello instrumentals into an album of exceptional beauty and artistry."
- Lee Williams, Director, Lotus Education and Arts
Foundation
"Our lives are so busy, there are so many distractions to pull us away from what really matters. Madeleine Bay is a wonderful musical reminder to slow our lives a few steps and listen to our hearts. Jim Krause, Anne Hurley, and Madeleine Bay take us on a journey to the deep end of the ocean, showing us what sparkles in the sunlightand what is always moving quietly and powerfully in the depths. Madeleine Bay is a cup of tea with an old friend, it is the whisper that speaks the word, "remember", it is an invitation to rejoice, and it is an unguarded act of generosity and kindness."
- Carrie Newcomer, Rounder Recording Artist
- Jim & Anne